The 20th Annual APIPA Conference will be held at Guam's Hyatt Regency Hotel. The hotel is a luxury 5 star resort sited on a prime 150-metre stretch of white sand beach in Tumon Bay. The Hyatt Regency Guam is also within easy access of Guam's capital, Hagatña, the main business and shopping districts, and only a five-minute drive from Guam's International Airport.
The hotel offers breathtaking ocean views, high-speed internet access, and workstations for business travel; perfect for APIPA participants who cannot afford to miss a day away from the office. Guests can also enjoy international restaurants and bars within the hotel, and a state of the art fitness center and spa. Other recreational facilities and activities are also available across hotel grounds to include relaxing cool and hot water pools and water slides for the family. The APIPA Conference will be held in all three of the hotel's spacious banquet facilities to include the hotel's Grand Ballroom on the ground / lobby level where the APIPA conference will begin on Monday July 27, 2009 at 8AM.
Guam OPA's APIPA Committee is extremely proud of our selected venue.
GUEST ROOM REQUIREMENTS
Conference Site – Hyatt Regency Guam
Hyatt's guestrooms are the largest on Tumon Bay and the only guestrooms which can also boast a full ocean view from within each room so you will never miss a sunset. If you would like to make arrangements at the Hyatt we have provided conference rates and hotel contact information below.
Attendee Rates - $135 per night + 11% tax
Mention you are attending the "APIPA CONFERENCE" to receive the discounted rate.
To make a reservation, please call (671) 647-1234. You may also visit the hotel website at www.guam.regency.hyatt.com to gain more information about other amenities and available room upgrades for those thinking about an extended stay.
Other Hotel Accommodations
Ramada Hotel and Suites – Guam
Guam's Ramada Hotel and Suites, located at 240 Ypao Beach Road in Upper Tumon, is pleased to host APIPA participants during the July 27-July 31 conference week.
The Ramada is Guam's premier all suite hotel with amenities that include free in-room wireless internet, free long distance telephone calls to the US & Canada, free local phone calls, and comfortable rooms featuring 32" flat screen TV's, a refrigerator and a microwave. The hotel also features two select restaurants which include the Grill & Curry and the Merloj Steak House.
For APIPA participants traveling on a budget the Ramada can offer reasonable rates without the sacrifice and convenience of location. Located approximately 2 miles away from Guam's A.B. Won Pat International Airport and less than a 10 minute drive from Tumon's Hyatt Regency Hotel, the Ramada will offer:
Attendee Rates - $69 + 11% tax (hotel)
$119 + 11% tax (hotel and car)
w/ free airport shuttle service
w/ free conference site shuttle service*
* If your office or travel group reserves a block of ten rooms or more, the Ramada will provide free shuttle service to and from the conference site to accommodate APIPA attendees.
To make a reservation, please call (671) 646-3060. You may also visit the hotel website at www.ramadaguam.net to gain more information about other amenities and available room upgrades. You may also make your reservations or direct your inquiries to Ms. Ruth Baluran at [email protected] or (671) 472-3001.
Mention you are attending the "APIPA CONFERENCE" to receive the discounted attendee rate above.
Located approximately 3,300 miles West of Hawaii, 1,500 miles East of the Philippines and 1,550 miles South of Japan, the Island of Guam is the Western most territory of the United States and one of the leading tourist destinations in the Western Pacific. Guam is truly a tropical island paradise. Approximately 30 miles long and 4 to 9 miles wide, the Northern end of Guam is a plateau of rolling hills and cliffs rising to 600 feet above sea level. Waterfalls, rivers and bays abound throughout Guam's central and southern areas. Luxury 5 star hotels line the Tumon Bay beachfront and Guam's unique "duty free" status makes it a shoppers' paradise. The beaches of Tumon Bay offer gleaming white sand and crystal clear, warm waters for swimming, snorkeling, or just relaxing and enjoying the fantastic sunsets over the Philippine Sea. With its year round warm and crystal clear waters, Guam is one of the most desirable Scuba dive destinations in the world. Guam offers seven world class golf courses open to the public and two military courses for authorized military personnel. Guam has a number of water parks and beach clubs that offer key skiing, windsurfing, kayaking, paddleboats, pools and water slides and various other water sports. Other popular Guam outdoor leisure activities include hiking (boonie stomping), skydiving, parasailing, deep-sea sport fishing and more.
The Island of Guam has an ancient history and rich cultural heritage. The original inhabitants of Guam, the ancient Chamorro, are widely believed to have been of Indo-Malaya descent with linguistic and cultural similarities to Malaysia , Indonesia and the Philippines . The first known contact with West occurred with the visit of Ferdinand Magellan in 1521. Guam was formally claimed by Span in 1565. Jesuit missionaries arrived in 1668 to establish their brand of European civilization, Christianity and trade. During the Spanish period, the Catholic Church became the focal point for village activities and Guam became a regular port-of-call for the Spanish treasure galleons that crisscrossed the Pacific Ocean from Mexico to the Philippines . Evidence of Spanish influence can still be seen across the island today and sunken Spanish galleons still lie under Guam 's warm waters.
Guam was ceded to the United States following the Spanish American War in 1898 and formally purchased from Spain in 1899. Placed under the administrative jurisdiction of the U.S. Navy , Guam experienced many improvements in the areas of agriculture, public health, sanitation, education, land management, taxes, and public works. The U.S. Navy continued to use Guam as a refueling and communication station until 1941, when it fell to invading Japanese forces shortly after the attack on Pearl Harbor . Guam remained under Japanese control until reclaimed by American forces in July of 1944. In 1949, U.S. President Harry S. Truman signed the Organic Act, making Guam an unincorporated territory of the United States with limited self-governing authority, which it remains to this day. Read more about Guam's rich history and culture here.
Guam today is a truly cosmopolitan community with a unique culture, the core of which is Chamorro heavily influenced by the Spanish occupation and the Catholic Church. Strong American influence is evident in regard to celebration of many public holidays, the form of Government and the pride in being U.S. that is displayed by the populace. Guam's culture has also been influenced and enriched by the Filipino, Japanese, Korean, Chinese and Micronesian immigrants each group of whom have added their unique contributions. Many of the major hotels provide cultural shows and cuisine. The Chamorro Village in Hagatna offers ancient cultural dances, reggae and live bands, and other cultural exhibits and you may also experience a wide variety of restaurants and food stands featuring Chamorro, Chinese, Japanese, Greek, Jamaican, Mexican, Filipino and other cultural delicacies. With its gleaming white sand beaches, marine and land based out-door activities, historical and cultural landmarks, cosmopolitan dining and active nightlife, Guam has something to appeal to almost any taste. A wide variety of tour guides and dive operators are available to ensure visitors make the most of their time. With its beaches, out-door activities, historical and cultural landmarks, cosmopolitan dining and active nightlife, Guam has something to appeal to almost any taste.
Source: http://www.guam-online.com/   
Guam has a variety of sightseeing destinations, from its geographic wonders, to its cultural and historic sites, to its man-made attractions and finally, and equally impressive, its underwater treasures. There are enough sites to keep you amused for weeks and quite possibly years. However, we know you don't have the luxury of time if you are just here for a visit, so browse through the sightseeing selections we have provided for you and get a sample of what Guam has to offer. Enjoy!
Northern Sites
Santa Rosa
Mount Santa Rosa, located in the village of Yigo, offers a panoramic view of northern Guam, as it is the highest point in the north. Now an extinct volcano, Mt. Santa Rosa is the site of a dome shaped military communication radar that can be seen from miles away. A unique view from this site is the Island of Rota, which can be seen with the naked eye on most clear days. One can also capture a bird's eye view of Andersen Air Force Base from atop Mt. Santa Rosa.
Ritidian Point
Ritidian Point, located at the northern tip of Guam, boasts the most tranquil white-sand beaches Guam has to offer. Now the site of the Guam National Wildlife Refuge, Ritidian is a protected sanctuary for wildlife. However, visitors are welcome to use the park's facilities for picnics and swimming. The park is open from 8:30am to 5:00pm daily and is worth a visit. Keep in mind this is a refuge and taking coral or plants is prohibited. Also beware that life guards are not on duty so exercise caution when you enter the water.
South Pacific Memorial Park
The South Pacific Memorial Park is dedicated to the memory of those that suffered and died during the struggles of World War II. It is situated on the site of Japan's last command post, before their eventual defeat. On the premises is a 50-foot abstract monument that depicts hands in prayer. There are also remains of Japanese soldiers buried at the site. A Buddhist temple and priest also make the site their home, as they pray for the departed. A small artifact museum also sits on the premises.
Tweed's Cave
Located in the north, is the site of Tweed's cave. After the Japanese Imperial Forces took Guam, Navy Radioman First Class George Tweed escaped Japanese capture with the help of several local families, some of which gave their lives protecting his secrete location. He was important to the WW II cause because he could communicate with U.S. forces and give them valuable information about Japanese installations on Guam. It is for this reason that the Japanese were relentless in his pursuit. After two and a-half years of hiding from the Japanese with the help of the Chamorros, Tweed escaped the island and swam to an American destroyer off the coast of Guam. His information proved to be valuable in the recapturing of Guam.
Central Sites
Adelup Governor's Complex
The Adelup Governor's Complex is the site of several government offices, including the village mayor's council and the Governor's and Lt. Governor's offices. It is named in honor of the late Ricardo J. Bordallo a former Governor of Guam and public servant. Located at the back of the complex is a museum and a wonderful ocean view. There are also pavilions for public use and monuments surrounding the facility.
Agana-Cathedral Basilica
Located in the capital village of Agana, this location has been a church site since the day's of Padre Diego Luis de San Vitores, a Jesuit priest that began the Catholic mission on Guam, upon his arrival in1668. The site itself was donated to San Vitores by the Chamoru Chief Quipuha. Today this facility is still the centerpiece of the Catholic community. Its interior is quite beautiful with its high ceilings and intricate stained-glass windows.
The Chamorro Village
The Chamorro Village located in Agana offers its quests a variety of island arts & crafts as well as a variety of favorite local cuisine. In addition to island shopping and local food, the Chamorro village periodically sponsors many cultural shows and exhibitions.

On Wednesday nights the Chamorro village is a bustling entertainment center, with food, entertainment and crafts galore.
Chief Quipuha Park
Chief Quipuha Park located in Agana contains a 12-foot statue of the ancient Chamoru Chief Quipuha. In the early days of the Spanish era on Guam, Quipuha was the first chief to donate land to the Jesuit missionaries in 1669. His remains are located in the Cathedral Basilica in Agana.
Fort Santa Agueda
Fort Santa Agueda, also known as Fort Apugan, sits atop the Agana Heights area and has a wonderful view of central Guam. It was originally a Spanish fort that was built in order to protect the capital village of Agana. It also served as an ideal location for observing the horizon for potential threats to Spanish interests on Guam, much of which revolved around the lucrative Acapulco-Manila galleon trade system that saw gold and silver from South America being traded with Chinese merchants in the Philippines for many exotic treasures from the Orient
Government House
The 22,000 square foot Governor's mansion sits atop the Agana Heights area and boasts an impressive view of the central and northern parts of the island. Originally built in1952 the structure has gone through recent renovations and is a centerpiece for the community of Guam
Latte Stone Park
Latte Stone Park, located in Agana, houses eight large latte stone formations. These two part columns were used as pillars for the houses of Chamorro chiefs as well as important boat houses. These structures often weighed thousands of pounds and were quarried miles away. The structures are truly amazing, with some in Tinian that are as high as 28 feet. The effort it took to create, transport and assemble these pillars using only ancient means is quite astonishing.

Also located at the Latte Stone Park, are Japanese World War II caves
Plaza de Espana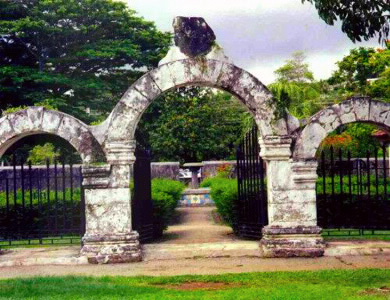 In the middle of Hagatna, the Plaza de Espana continues to be the center stage for many government and civic activities. These spacious grounds and Spanish ruins used to serve as the Governor's Palace from 1669 until the invasion of World War II. The Governor's Palace housed the office and residence of the Spanish governor. It was totally destroyed in 1944 during the liberation of Guam. However, portions of the foundation may still be seen. The surviving or restored structures include the Azotea, Chocolate House, Tool Shed, Siesta Shed and Spanish Walls.
The principal structure in the complex of buildings, gardens and park, the Casa Govierno, or Governor's Palace, was originally constructed in 1736, being first occupied by Governor Francisco Cardenas Pacheco. The complex was originally named the Plaza de Magalahes (Governor's Plaza) and was later changed to Plaza de Espana. After the Spanish-American War in 1898, when Guam became an American possession, the Plaza continued as the headquarters of the American administration and official residence of the Naval Governor. The Plaza was extensively damaged by the July 1944 bombardment of Agana shortly before Guam's liberation during WW II. The existing structures were subsequently repaired but an extensive restoration project was completed only in 1980.
Santo Papa as Juan Pablo Dos Monument
This monument is dedicated to Pope John Paul II and his memorable 1981 visit to Guam. It was erected at this location in Agana because it was the site where he delivered mass to the thousands of locals that came to visit him. The statue is quite unique itself, as it rotates once every 12 hours.
San Antonio Bridge
The San Antonio Bridge, located in Agana, was built in1800 during the Spanish era on Guam. The river that once flowed beneath it was blocked and rerouted after World War II to make way for a new street plan. Although it is no longer functional it is still an important reminder of a by gone era.
Sirena Statue
Located in Agana, is a statue of what appears to be a mermaid. In fact, it is a mermaid and is based on a local legend of a girl named Sirena. Sirena loved the water and would often neglect her chores to swim in the Agana river. One day her mother became angry and wished Sirena would turn into a fish. However, her Godmother who loved Sirena dearly had countered the wish with a wish of her own that stated only half of Sirena would become a fish so that she could still visit and talk with her goddaughter.
Statue of Liberty
Located behind the Paseo Recreational Park in Agana, sits a replica of New York's Statue of Liberty. It was donated by the Boy Scouts of America to commemorate their 40th Anniversary and stands for the ideals of freedom and liberty. Like its model in New York, it welcomes weary travelers ashore
Southern Sites
Asan Beach Memorial
Asan Beach Memorial is dedicated to the men and women that endured the trials of World War II, many of whom gave their lives in the process. The site is located in the area where the U.S. Marines stormed the beach in their quest to recapture Guam from the Japanese Imperial Forces.
Asan Overlook- World War II Memorial
Asan Overlook is home to a World War II memorial site where the names of the men and women that endured the war are etched into its walls. Also at the site is an unparalleled view of the Asan Beach/ApraHarbor area as well as the battle area where the Marines stormed the beach on July 21, 1944, also known on Guam as Liberation Day.
Bear Rock
Located in the village of Inarajan, just off the coastline, stands a natural phenomenon known as Bear Rock. And like the name suggests it resembles a bear standing on its hind legs protecting the bay from intruders.
Cetti Bay Overlook
Cetti Bay, located in the village of Umatac, offers its guests a wonderful view of the southern coastline, which includes a gander at the Cocos Island Resort. The lush mountainous terrain of the south, as it winds down to Cetti Bay, provides for a great photo opportunity. The bay was once the site of an ancient village.
Fort San Jose
Fort San Jose, located in the southern village of Umatac, is one of several Spanish forts built to protect Spanish trade interests in the area from pirates. The area this site is located on is not easily accessible to visitors that do not have a guide; however, if you are a diligent historical buff, this site is not too much trouble for your inspired hunt.
Gadao's Statue
Gadao's Statue, located in the village of Inarajan, is a tribute to Chief Gadao, an ancient Chamorro leader. Gadao was known for his legendary physical strength. The statue depicts a particular episode where Gadao was competing with a rival chief from the village of Tumon by the name of Malaguana, to see who was stronger. The chiefs sat in the same canoe, but one chief paddled in one direction while the other paddled in the opposite direction. As a result of the opposite forces, the canoe split in half, the image that is depicted in the statue.
Inarajan village
Inarajan village is considered by many as a historic site in and of itself. The layout of this village resembles the days of old, with narrow roads and tight-knit buildings that hint of the bygone Spanish Era. A visit to this sleepy village by the bay really does transport you back to a simpler more romantic time.
The Magellan Monument
The Magellan Monument, located in the village of Umatac, was erected to commemorate the island's first documented contact with Western civilization. On March 6, 1521, Ferdinand Magellan, sailing on behalf of the Spanish Crown in an attempt to circumnavigate the globe, anchored his three ships off Umatac's sleepy island bay. While on Guam, Magellan received much needed food and water. In return he brought Guam within the realm of the West's influence by putting the island on the map.c
The Merizo Pier Park
The Merizo Pier Park, located in the southern village of Merizo, is a nice recreation area where visitors can barbeque, fish, swim, play basketball and volleyball or just relax in the shade with a cool drink. There are picnic tables, shelters and restrooms in the area. If you decide you would like to hop on a boat and head to Cocos Island, arrangements can be made at the pier.
Pago Bay – Overlook
Pago Bay, located between the villages of Chalan Pago and Yona, offers guests a gorgeous view of the Pacific Ocean. The area is becoming increasingly popular for people that have the money to afford large homes on a spectacular hillside. However, you don't have to purchase a home to enjoy the Bay's view or its wonderful waters. Help yourself to its natural beauty.
The Talifak Bridge
The Talifak Bridge, located in the southern village of Agat, is one of four Spanish Era bridges that are still in great condition. During their 333-year stint on Guam the Spanish commissioned the building of several bridges, especially in the central and south, in order to cross the many rivers and creeks that once seperated villages. This particular bridge was first constructed of wood in 1785 and was later reconstructed using the keystone method in the mid-1800's.
Talofofo Falls
Talofofo Falls, located in the village of Talofofo, is one of Guam's popular waterfalls. At this privately owned area, you can take a two minute cable car ride down to the waterfall. There are several bridges that allow you to walk over and enjoy the water without getting wet. Also located on this site is a small museum and a convenience store and gift shop. There is also a rendition of Sergeant Soichi Yokoi's cave. Yokoi was a Japanese soldier that hide in the Talofofo jungles for 28 years after World War II had ended. He was finally captured in 1972 by local hunters and returned to Japan where he was given his back-pay and he eventually found a wife. Incredible!
Umatac Bay Park
Umatac Bay Park, located in the southern village of Umatac, offers its guests a tranquil rest area to take in the beauty of this lovely bay. Umatac Bay and its surrounding village, once a safe haven for Spanish galleons, has the ability to take one back to the simplier days of long ago, a must see for anyone visiting Guam.
Car Rental
Gain more information by contacting each directly via email or by visiting their website below (if available).
Avis, (671) 646-2847, www.avisguam.com
Budget, (671) 647-1446,

[email protected]

Dollar, (671) 642-6472
Europa, (671) 649-2688, www.europaguam.com
Hertz, (671) 646-5875, www.hertz.com
Alamo, (671) 647-1015,

[email protected]

National, (671) 649-0110,

[email protected]

Payless, (671) 649-7368,

[email protected]

Cars Unlimited, (671) 646-7261, www.carsultd.com
Thrifty, (671) 646-6555, www.thriftyguam.com
Toyota, (671) 646-1876, www.akguam.com
Shuttle Bus
Gray Line Guam / Lam Lam Tours offers a variety of shuttle routes to its customers at very reasonable prices, with several buses that routinely pickup and drop passengers through out the Tumon area. The company also publishes a bus schedule that may be picked up in most hotel lobbies as well as the Guam International Airport and the Guam Visitors Bureau. See List below for daily shuttle / trolleys operations and fares. Grayline also offers its customers better rates for purchasing extended passes. These rates offer guests an unlimited one day pass for $5 and an unlimited 7 day pass for $8.
Tumon Trolley
This trolley covers all of Tumon, taking its passengers from their hotels up and down Tumon as well as Kmart, Guam Premium Outlets, and Micronesian Mall
Operates: 9:00am to 10:30pm daily & stops at 35 bus stops on a 20 minute rotation.
Fare: 6 yrs. & above $2 per ride.
Shopping Loop Course
This trolley covers all the major shopping malls as well as many specialty boutiques.
Operates: 10:00am to 8:20pm daily w/ 20 minute intervals.
Fare: 6 yrs & above $2 per ride
Agana Course
This trolley covers the capitol of Agana and its neighboring facilities including: Alupang Beach Tower, Chamorro Village, Fish Eye Marine Park, Agana Shopping Center, and Guam Premium Outlet
Operates: 9:20am to 9:13pm daily
Fare: 6 yrs & above $2 per ride
Two Lovers Point Shuttle
This trolley travels from DFS Galleria to Two Lovers Point and Micronesia Mall and vice-versa
Operates: 10:00am to 4:30pm daily
Fare: 6 yrs & above $2 per ride
The Shopping Bus shuttle services all the hotels in the Tumon Bay area. For a minimal fee you have access to all of Guam's major shopping centers, except for Agana Shopping Center. The shuttle route includes stops at DFS Galleria, Micronesian Mall, Kmart, Guam Premium Outlets, Time Square, and Tumon Sands Plaza. However, there are bus stops located up and down Tumon Bay, making it possible to use the shuttle service to access any establishment in the Tumon area. Bus schedules that include route maps and departure times are available at most hotels, shopping facilities and the Guam International Airport. Buses generally depart and arrive every 20 minutes.